With its overwhelming fullness of flavor and intoxicating aroma, Darjeeling tea is one of the most elite teas consumed worldwide. Specific only to the Himalayan Foothills, this tea is famous for its quirky muscatel flavor with a hint of sweet, fruity note, evoking a similar flavor profile as the French dessert wines. In this competitive tea market, you would find that each tea brand has something unique to offer. Amidst the multitude of options, this article only brings you the best Darjeeling tea brands, offering you the best from the handpicked tea estate to your tea cup.
Darjeeling tea grows in separate "flushes." After the very first flush, new leaves start sprouting, leading to the second and third flush. Among the several competitors, only a handful of Darjeeling tea brands bring you the "first flush" itself, which is the most sought after because of its light, refreshing, and complex flavor profile. Look at these trailblazing Darjeeling black tea brands and what they offer.
Health Benefits of Darjeeling Tea
Herbal teas might provide relief from a lot of ailments. Darjeeling tea also has a significant role to play. Firstly, replacing energy drinks with herbal teas is a good choice but must first be cross-checked with your physician. Only then can you rely on the health benefits these teas offer. The best Darjeeling tea is pleasant on the tongue and benefits your digestive system and overall health. Check the following benefits:
Derived from the Camellia family, Darjeeling tea is rich in good plant chemicals. Antioxidants, Flavonoids, Polyphenols, and many others, which reduce the risk of metabolic abnormalities such as heart disease, diabetes, and obesity, are present in this tea.
Darjeeling tea might aid weight loss. When had without sugar, Darjeeling tea can act as an excellent calorie-low brew.
It might also help in fighting certain kinds of cancer.
The tea can also help treat bacterial infections in the gastrointestinal tract of humans. It can also improve oral health.
Undoubtedly, this tea contributes to a calming sensation and helps fight stress.
How to Choose the Best Darjeeling Tea in India?
Authentic Darjeeling tea is already a top-shelf product. Further, if you seek the best of the lot, you should stick to reputed Indian tea brands. The tea is available in loose leaf tea packs and in Darjeeling tea bags which are carefully packed without compromising on quality. As you might already know, first flush Darjeeling tea is highly prized by tea-drinkers. And if you can grab first flush Darjeeling tea from a brand providing authentic service, your tea-drinking experience will be next level.
But, with all the false advertisements and deceptive products saturating the market, it is hard to distinguish authentic brands from fraudsters. In this case, you can only trust consumer reviews and expert recommendations. This article brings you to the top Darjeeling tea brands with premium products.
7 Best Darjeeling Tea Brands in India: 2022
Are you confused regarding where to buy Darjeeling tea? This list below will take away your doubts. Each of these expert-recommended Darjeeling tea products has unique features. Dig in to explore the list of the best Darjeeling tea in India.
1.Goodricke: Roasted Whole Leaf Best Darjeeling Tea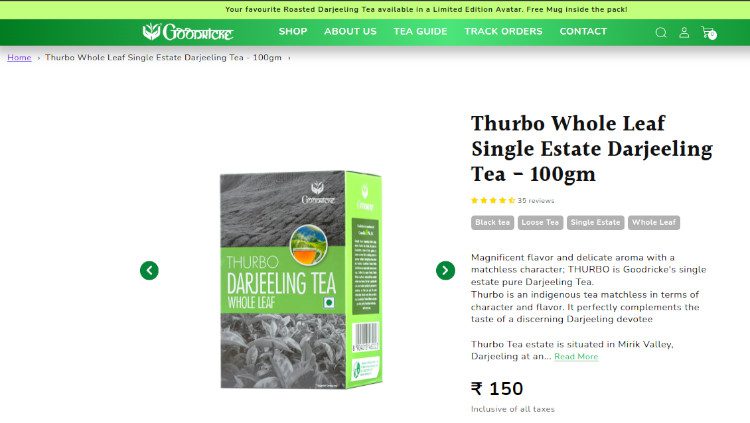 Goodricke as a brand beats all others. It gives you the highest quality Darjeeling tea. Packed with pure and premium Darjeeling long leaf black tea, this product has a delicious smoky flavor with a malty taste and a heady aroma. The robust flavor is what makes this tea one-of-a-kind.
This tea is curated from the summer flush in the tea estates of Darjeeling and is packed straight after freshly plucking and processing the leaves from the gardens.
This Darjeeling Black tea has an intricate and layered taste and is best served without milk.
This tea comes with a shelf life of 24 months.
What customers liked:
This tea's intense and concentrated smokey flavor makes it fit for true tea connoisseurs.
The aroma is unique and unlike any other tea product.
This Darjeeling tea price is budget-friendly.
One does not need to bother with tea dust or powder that mutes the taste and fragrance. This tea comes in whole leaves.
2.Lipton: Long Loose Leaf Best Darjeeling Black Tea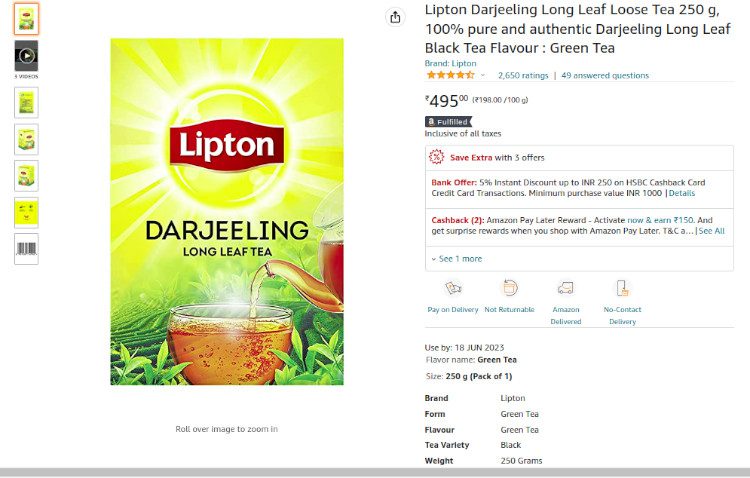 Lipton brings customers the ideal 100% pure Darjeeling long-leaf black tea. Lipton is one of the most trusted brands regarding hot and cold teas. Lipton promises to deliver a tasty brew of handpicked long-leaf orthodox tea from the 87 reputed Darjeeling tea estates with this product.
Their tea brings out the naturally rich flavor of Darjeeling teas.
This tea is light on your stomach, but the taste is intense when served without milk or sugar.
The tea leaves no bitter aftertaste.
What customers liked:
Extremely good for regular use.
Worth the money.
This tea soothes your nerves and relaxes you.
Consistent quality through the years.
3.Twinnings: Best Darjeeling Tea Bags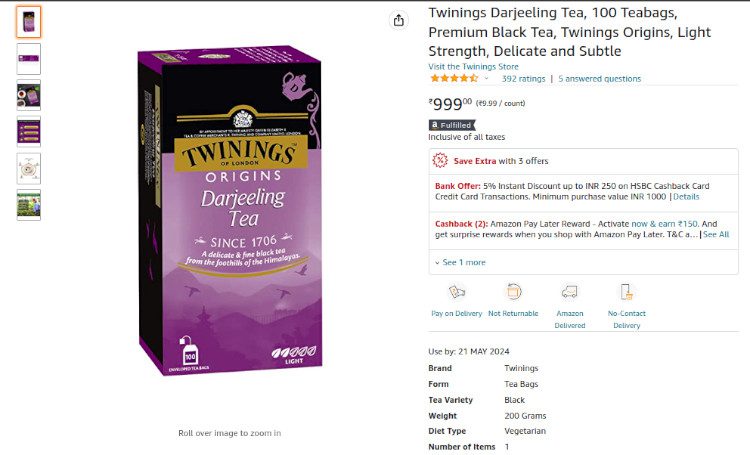 Twinnings brings you the ultimate blend of the highly prized first flush and second flush Darjeeling teas. Brew a delectable cup of this golden liquor to experience the delicacy of Darjeeling tea estates. With every sip, this tea will rejuvenate your mind and body alike.
Handpicked from the high-altitude tea estates, this tea packs comfort and happiness in each tea bag.
This tea's delightfully rejuvenating aroma is to die for.
Not to mention, the golden hue and rich taste will warm your heart.
You can prepare this concoction with or without milk and sugar.
What customers liked:
The blend of the first and second flush makes it delicious and flavorful. It also justifies the price of this product.
Packed in tea bags, you can carry them anywhere and dip them in hot water to enjoy the pronounced flavor of the Darjeeling tea.
4.Makaibari: Best Makaibari Darjeeling Tea Online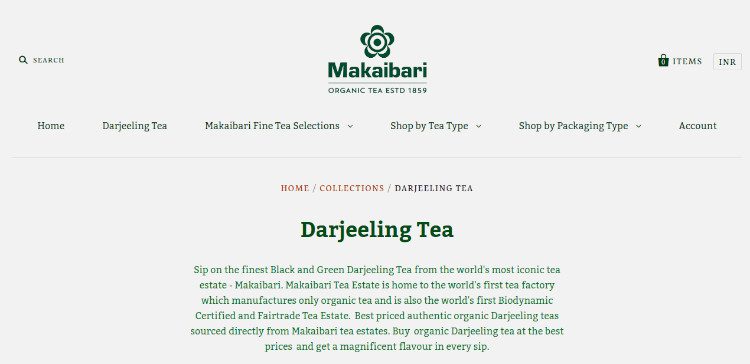 Being one of the most extensive tea estates in Darjeeling, Makaibari tea is one of the finest. Be it a souvenir or your regular breakfast tea, Makaibari Darjeeling tea excels on both occasions.
Packed in a light pine wood box, this Darjeeling black tea product comes with whole leaves blended with unopened tea buds and has a superior taste to other varieties.
The tea buds which give this tea its characteristic taste are known as Apoorba tips. They are delicate and produce an intoxicating aroma.
Makaibari Tea Estate is also reputed because all its products are free from chemicals, artificial additives, and pesticides. Makaibari tea estate promises to maintain the herbs' fragrance, composition, and natural integrity.
What customers liked:
Cruelty-free, eco-friendly package.
Rejuvenating, flavorful, and healthy.
This tea aids body metabolism and is highly relaxing.
5.The Hillcart Tales: Best Darjeeling Black Tea in Muscatel Flavor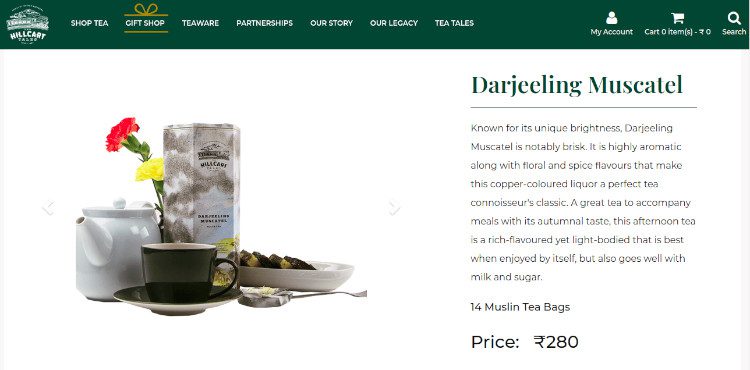 The Hillcart Tales bring the distinct flavor of the Darjeeling muscatel variety to your cup. This tea also has an aroma that will please your senses. You have a unique concoction suited to the tastes of a true tea-lover.
This copper-hued tea variety is 100 % Darjeeling Black tea.
Has a musky aroma with delicate floral notes.
This premium blend is chemical free and is best served with milk and sugar. This tea is your product if you want if you are looking for a good Darjeeling milk tea.
What customers liked:
The Hillcart tales tea brings autumn into your cup through the breath-taking fragrance, and an amber brew filled with all the goodness is a great stress-reliever.
The tea is packed in eco-friendly Muslin teabags, which is very economical at the price they are offering the product.
Rich with antioxidants, this tea promises to eliminate all the harmful toxins inside your body.
This tea also alleviates pain from cols and congestion since it is rich in Vitamin E and C.
6.Teabox: Best Darjeeling Green Tea Loose Leaf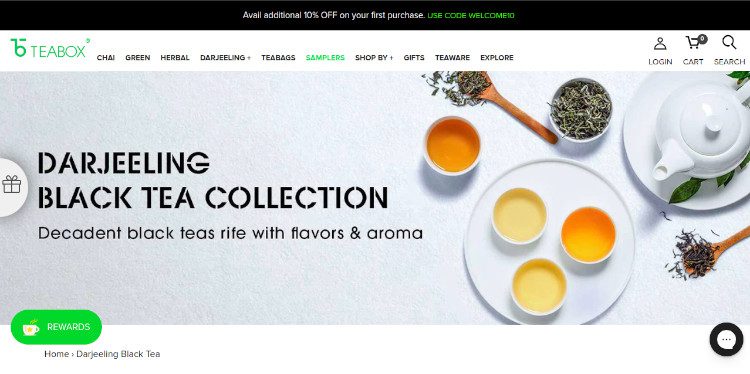 This premium A-grade long leaf green tea picked from the reputed tea estates will amaze you with its complex flavor profile. High in antioxidants, this tea speeds up your metabolism and helps you shed weight faster. You get this tea in loose leaves, packed in fancy Darjeeling teabags to protect the fragrance and taste.
These top-shelf tea leaves contain anti-oxidants and bioactive, which might help with any ailments stemming from stress, gastric disorders, and many others.
Plucked fresh from the tea gardens, they are packed without delay.
The tea is best served without milk with sugar or honey or lemon as per your taste.
What customers liked:
The tea bags are reusable. Dip it twice.
Being one of India's most trusted brands, Teabox guarantees 100% freshness with a lively intensity of flavor which permeates through every sip.
7.Gopaldhara: Best First Flush Darjeeling Tea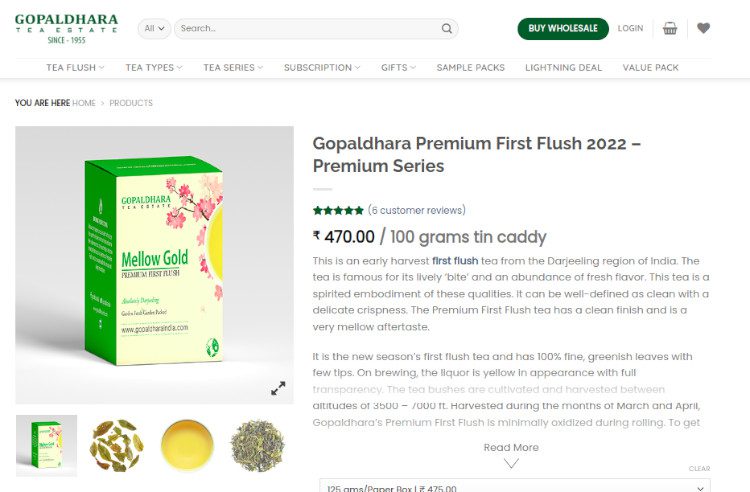 Certified by ISO 2200 and FSSAI, Gopaldhara is an iconic tea estate selling only authentic Darjeeling teas grown at high altitudes of around 6000 feet. The tea contains dry greenish first flush leaves with its distinct flavor.
This amber-hued concoction has a unique sweetness to it. The handpicked first flush Darjeeling tea leaves make the brew even more distinct in its aroma and taste.
You will notice the delicate notes of spring seeping into your tongue while you enjoy the tea-drinking experience.
The texture of this tea is herbaceous and vegetal and takes a golden hue when brewed properly.
This Gopaldhara product ensures only the most delicate first flush you will ever find at this price.
What customers liked:
The product contains hand-sorted, flavorful tea leaves along with a few tips.
This tea's sweet and sour taste has made it a trendy choice amongst consumers.
The tea is smooth and light on your stomach and comes with as little oxidization as possible.
FAQ: Things to Keep in Mind While Choosing the Best Darjeeling Tea
Which one of the Darjeeling tea brands is the best in India?
Ans: Goodricke has become the consumer-favorite best Darjeeling tea brand in India.
Which Darjeeling green tea is the best?
Ans: You can be sure that 100% pure, premium green tea obtained from famous tea estates in Darjeeling is India's only best variety of Darjeeling Green tea.
Is Darjeeling tea the best tea in the world?
Ans: Yes. Darjeeling tea is often served as a part of luxury breakfast and is called the "Champagne of all teas." The fruity overtone and muscatel flavor blend are best found organically only in this tea.
Which best Darjeeling tea goes well with milk?
Ans: Darjeeling black tea leaves assorted from second flush or autumn flush are best served with milk. The flavor will leave you surprised.
Bottom Line
Tea knows no border and no religion. Sipped all across the world, this potent brew has the power to energize, soothe and heal. Darjeeling tea is the crown jewel of all teas and is specific only to the Himalayan foothills of India. The best Darjeeling tea will leave you hooked to it. There is a winner among all the recommended Darjeeling teas, but you should try each of the 7 best Darjeeling tea brands in India. Grown and plucked with the utmost care, these Darjeeling teas embody the luxuries of nature in your teacup.