The period between April and August is known as the allergy season. This unusual name is given for the unfortunate reason that this period causes severe immune reactions, which affect at least one in five people. Studies have also found that one-fourth of the Canadian public is affected by this. As a result, many turn to antihistamines to relieve their symptoms. However, there is a delicious and natural solution right in your kitchen!
What causes them – It is easy to confuse the symptoms with the common cold. The defense reaction, known as allergic rhinitis, is a natural response of the immune system against allergens. Pollen grains in April and May, Grass pollens and ragweed from June to August, and even the hair from your pets can trigger such a response.
What characterizes them – Repetitive sneezing and/or coughing along with itchy and constantly tearing eyes, with a runny nose with tingling in the nostrils, headaches, loss of sleep, lack of appetite are all the characteristics of the body when it tries to defend itself from allergens. These are known as pro-inflammatory signals.
They aren't life-threatening. However, they affect the significant parts of the body. Unfortunately, there aren't any magic potions to solve most of the allergies; however, your life can become much easier and happier by using natural remedies.
Here are a few types of teas and herbal teas to help you with the allergy season:
1. Rooibos Tea for Allergies and Skin Rashes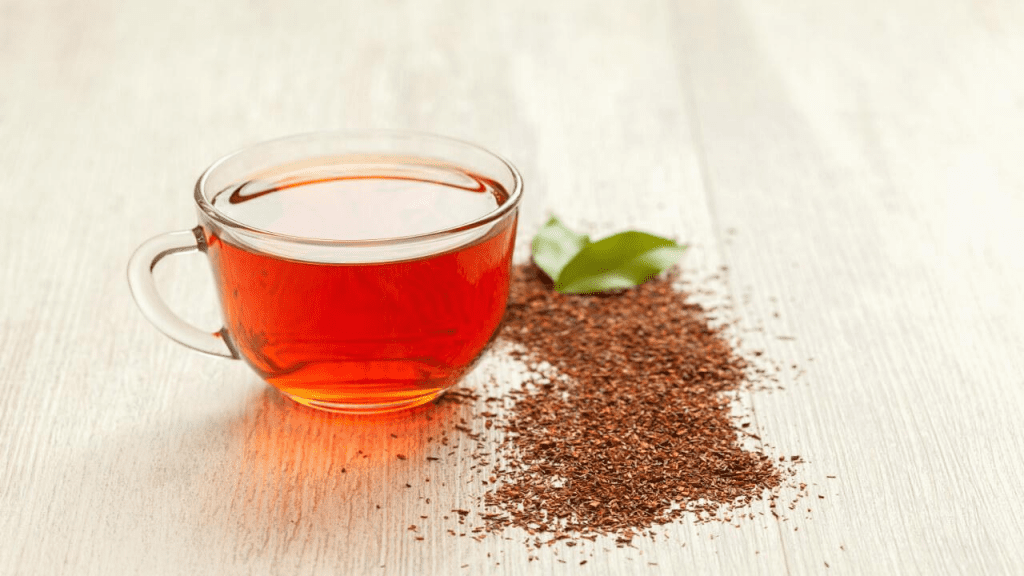 Rooibos is known as Red Bush, which is a legume plant that is native to South Africa. The native tribes of South Africa have used it for thousands of years to treat many ailments because of its antibacterial, antioxidant, and immune-modulating properties.

Flavonoids in rooibos fight unwanted pathogens and can keep eczema and allergy reactions at bay. It also contains high levels of nothofagin and aspalathin, as well as superoxide dismutase. Bioflavonoids like rutin and quercetin (which have shown to demonstrate natural antihistamine properties) help block histamine. These antioxidants are active on the skin too.
Therefore, they can relieve allergies. It also contains vitamin C that helps protect against symptoms of allergic rhinitis.
As this tea does not contain any caffeine, it does not affect your sleep cycle when consumed throughout the day.
2. Yerba Mate Tea for Allergies and Skin Rashes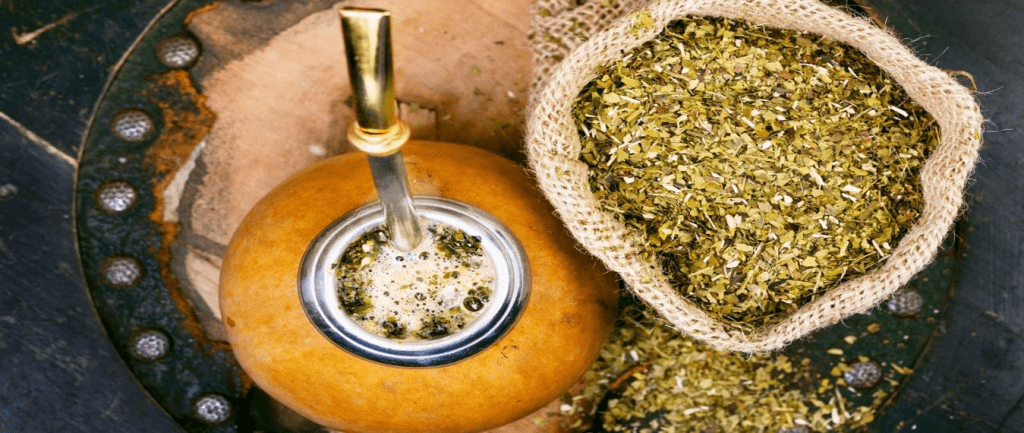 Yerba Mate is a natural shrub or plant that's found in locations such as Brazil, Argentina, Paraguay, and Uruguay. Yerba Mate facilitates the adrenal glands to produce corticosteroids. This aids in suppressing hyperactive allergenic immune system responses helps to suppress inflammation and produces more oxygen flow by widening the respiratory passages. However, Yerba Mate contains caffeine that may affect the sleep cycle of heavy in-takers.
3. Ginger Tea for Allergies and Skin Rashes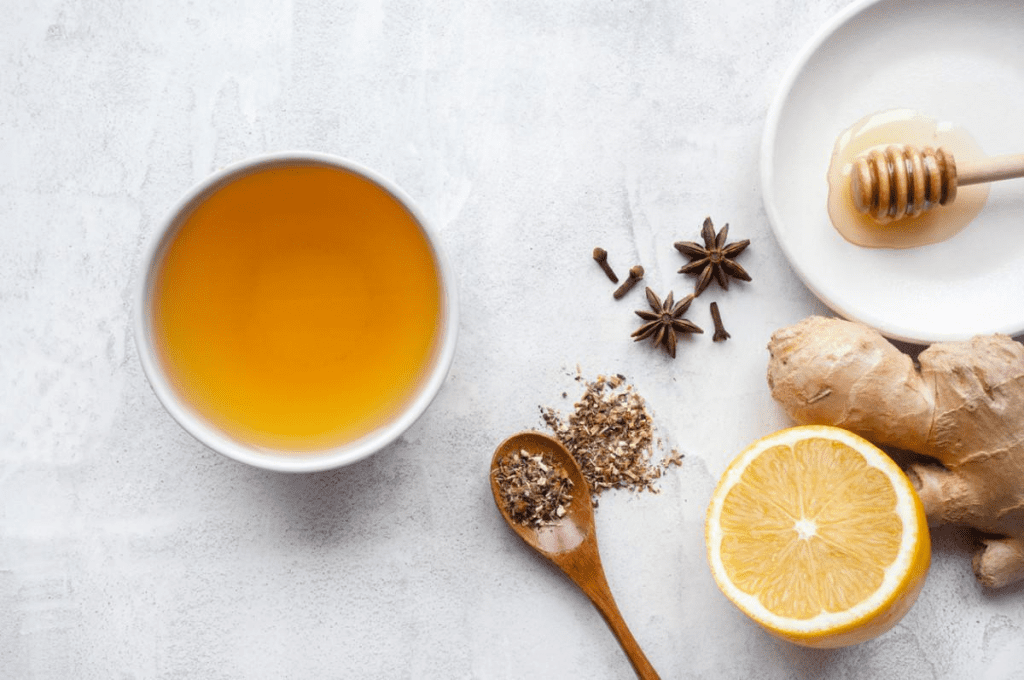 Ginger contains over 30 gingerol compounds that have antioxidant and anti-inflammatory properties. It is a natural antihistamine, so it relieves allergy problems in the sinus. Chopping up and boiling a spoonful of ginger in water for a minute gives you ginger tea. Ginger can be applied topically. It is beneficial for reducing digestive issues and dealing with pain and redness on your skin.
It can bring relief to digestive disorders and nausea. Consume this to reduce nasal mucosa inflammation.
4. Lemon Balm Tea for Allergies and Skin Rashes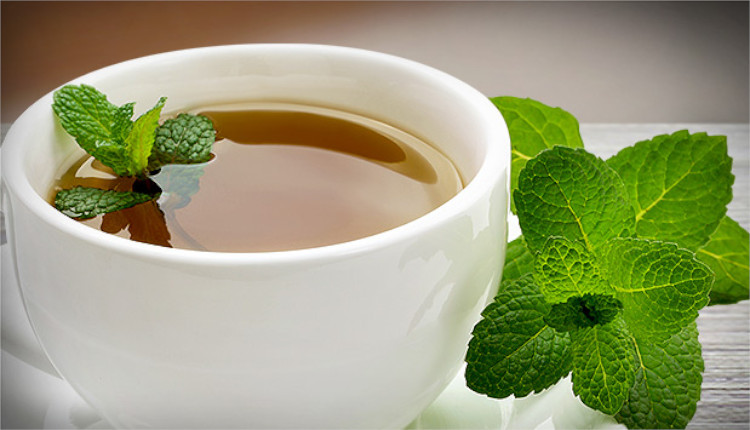 Lemon balm gets its name for its citric scent; it is a progeny of the mint family and is leveraged as a "calming" herb. It has numerous medicinal qualities with the likes of being used to fight colds, settle ailing stomachs, help during headaches, lower blood pressure, soothe menstrual, and respiratory issues. It is also surveyed that Lemon Balm has helped reduce stress and agitation in ailing individuals with dementia and Alzheimer's disease.
5. Honey + Lemon Tea for Allergies and Skin Rashes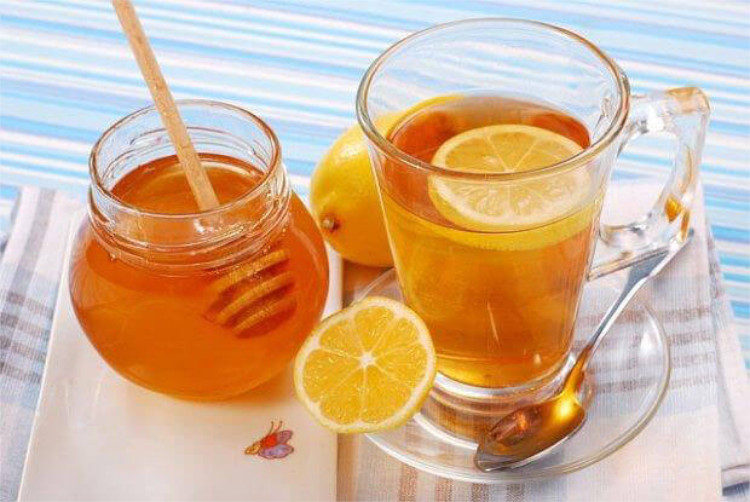 Honey can soothe an itchy throat. It, however, does not directly combat allergies, contrary to popular beliefs. Raw honey is rich in Vitamin C, and this helps boost immunity. Combining honey with lemon, which is an excellent detoxifier, is helpful against allergies.
6. Stinging Nettle Tea for Allergies and Skin Rashes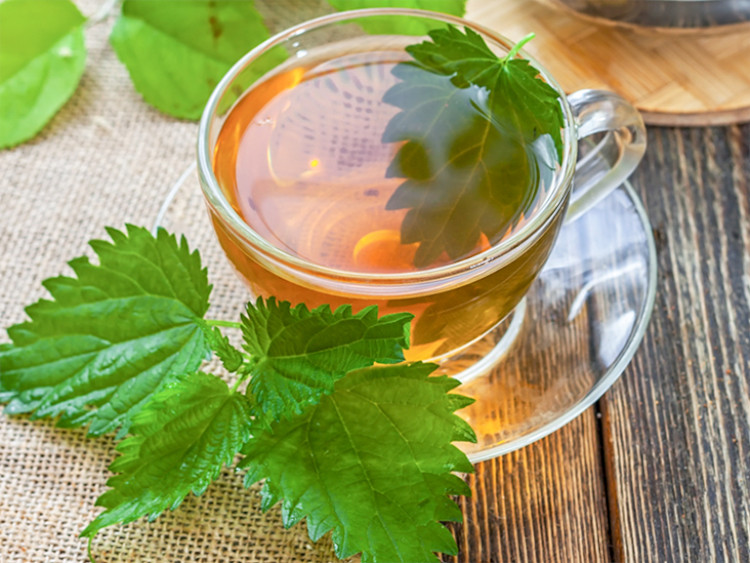 The Stinging nettle (Urtica dioica) is a plant that can be recognized from its heart-shaped green leaves. The unique feature of this leaf is, however, its long stinging hairs. These hairs inject chemicals into the skin when brushed against them.
It has helped soothe skin and hair allergies along with problems in the PMS and the kidney. It behaves as a healing tonic and a detoxifier.
It acts as an anti-inflammatory agent. It reduces congestion and also provides relief for those suffering allergy reactions. A study of forty individuals also found that people who consumed nettle root extract had significantly improved allergy symptoms compared to placebo. This acts as a piece of promising evidence for the benefits of stinging nettle tea.
7. Green Tea for Allergies and Skin Rashes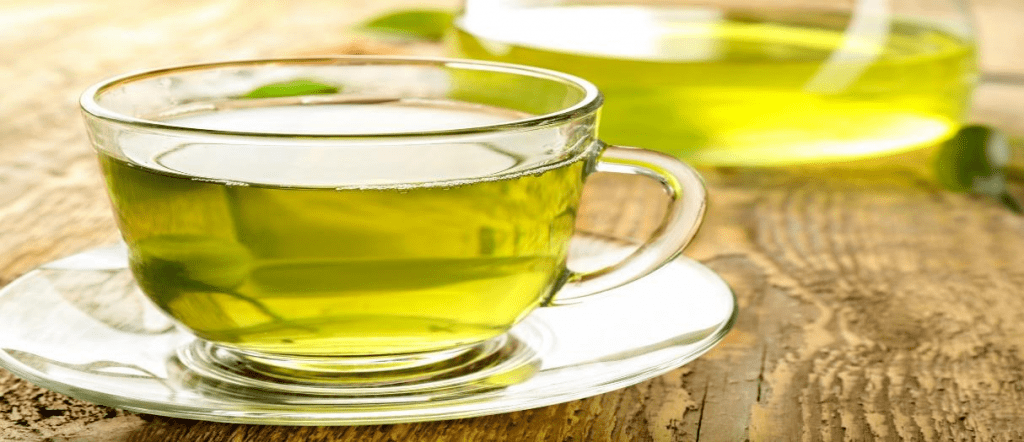 Green tea can provide major extensive health benefits ranging from improved blood pressure to lower risks of falling ill. Antioxidants like polyphenols are useful against a ton of diseases.
Epigallocatechin-3-gallate (EGCG), present in the green tea, helps to shut down many allergies. The anti-inflammatory properties offer relief from seasonal allergies by opening up nasal passages and reduce the extreme response. Added with a dash of apple cider vinegar, this detox tea can help your body fight off allergy symptoms.
8. Peppermint Tea for Allergies and Skin Rashes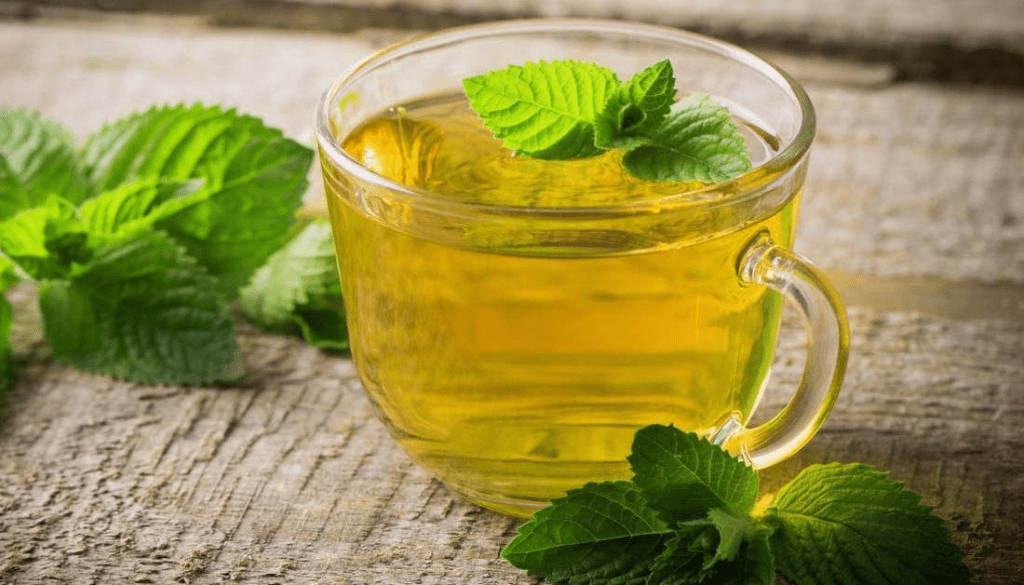 Radiating a delightful aroma, peppermint tea is a refreshing respite for people with blocked airways and congestion. Along with its invigorating fragrance, it has anti-inflammatory agents, which are strong warriors in the fight against the allergy.
A dab of turmeric or raw honey can also be added with the tea to make it more effective. Turmeric decreases the inflammation, and honey helps establish immunity.
Peppermint herb is also useful for relieving the symptoms of allergies. Peppermint is particularly effective in relieving the symptoms of itchy and runny nose, treating allergic rhinitis, sneezing, and constantly watery eyes. The oils act as a decongestant and have anti-inflammatory and antibacterial properties.
9. Licorice Root for Allergies and Skin Rashes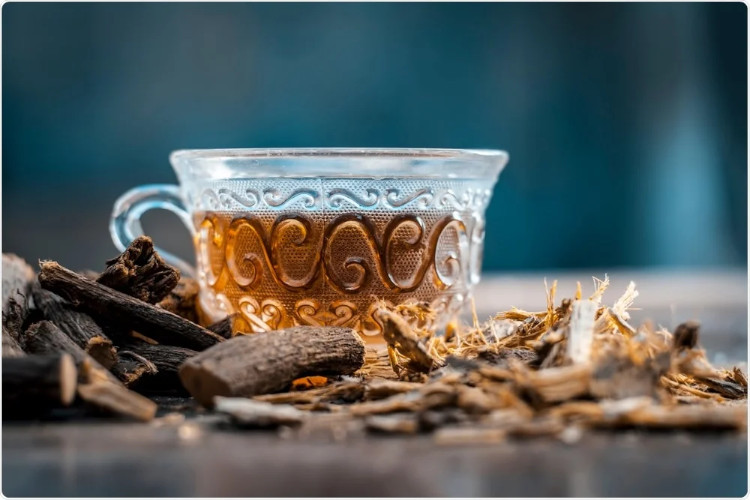 This is an old-school remedy and known as a natural cough suppressant and expectorant. It is also considered to be an anti-inflammatory, thus assisting in respiratory problems associated with allergies.
All-Purpose Allergy Blend
● 1 part rooibos
● 1 part peppermint tea
● 1 part nettle tea
● 1 part yerba mate
● 1 part lemon balm
Process: Mix together and store in an airtight container. Use about one heaping teaspoon per 8 ounces hot water. (Don't exceed 212 degrees F.) Let it steam for 6-7 minutes, add honey or lemon, if desired.
As the age-old advice goes, prevention is better than cure. Hence, the best way to treat allergies that occur during this season is to completely avoid irritants and allergens that cause an allergic reaction. This should be a priority. Minimizing interactions with known allergens by staying indoors and wearing protective masks when going outside can help keep your airways and sinuses clear. Antihistamines or decongestants are helpful in relieving many of the symptoms in case you develop allergies. By inhibiting the release of allergy-causing histamines and decreasing the inflammation, they are quite handy. Antihistamines can be taken daily if your allergies are seasonal or unavoidable. Therefore, during the allergy season, try not to come into contact with pollen by avoiding drying clothes and bedding outside.
Apart from medications, drinking any of the recommended tea may help to alleviate some of your allergy symptoms caused by ragweed, animals, plants, and pollen. Compared to some medications, tea also has fewer side effects, making it an excellent choice for anyone looking for home remedies to treat their dander allergies or spring allergies. If you're suffering from wheezing, sneezing, coughing, itchy eyes, and runny nose, try any one of the teas on this list of the best teas for allergies. They can help to open up your airways and offer temporary allergy relief. It is also suggested that you wake up early and enjoy the morning. Open your windows while the morning dew prevents the allergens from hovering into the air. At the end of the day, take a fresh shower, which will cleanse your body of the allergens stuck to your skin and hair.
Moreover, take time to enjoy a good cup of tea or herbal tea at any time during the spring and the summer, as this is the best way to enjoy the allergy season!
SOURCES:
The herbal teas allergies: https://www.divinitea.com/herbal-tea-for-allergy-relief/
The Best Teas for allergies: https://www.myrecipes.com/how-to/cooking-questions/best-tea-for-allergies
8 teas to survive the allergy season: https://fouroclock.ca/en/articles/teas-herbal-teas-survive-allergy-season/
Tea for Allergies: An Alternative Remedy for Symptom Relief: https://www.healthline.com/health/tea-for-allergies
Contributor: Adil Ansari, "An engineer in making, Adil balances writing in one hand and college in the other, all this, while balancing himself on the tiny unicycle called life! "