Oolong Tea is neither Black Tea nor Green Tea. But it shares characteristics with both. Oolong Tea differs from Black and Green Tea in its oxidation process and shape. The shape, flavor, and appearance of Oolong Tea largely depend on where it is grown and how it is oxidized. It is most popularly grown in China and Taiwan. It is always a good idea to buy Oolong Tea from a reputable brand that would provide a guarantee of quality. An esteemed brand could also tell you where and how your tea was processed and packaged. It would also give you information about how to store the Oolong tea properly. Oolong Tea can have a shelf life of six months to two years, depending on its type and oxidation level. A less oxidized Oolong tea, similar to Green tea, will have a lesser shelf life as compared to a more oxidized one.
7 Best Oolong Tea Brands in the US: 2022
Here is a list of the best Oolong tea brands in the US. Do take a look at it.
1. Teatulia Organic Teas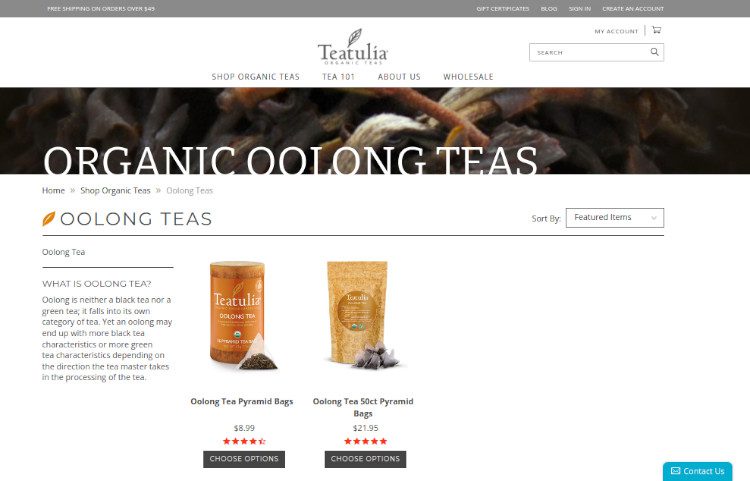 It is a Denver-based, Bangladeshi-grown organic tea company working to create a regenerative and self-sustaining community. Along with a wide range of other available tea varieties, it offers the customer loose leaf tea or convenient pyramid tea bags of Oolong tea to choose from.
Teatulia promises to bring Oolong Tea right from the garden to your teacup. The company boasts of being awarded the third place awarded third place in the Oolong Tea Category at the 2014 North American Tea Championships. Additionally, the company proudly proclaims that the Oolong Tea produced by them is cultivated by organic farming methods like regenerative farming without harming the environment. It is also packaged in revolutionary eco-canisters and infinitely recyclable cans that are non-toxic to the environment.
2. The Republic of Tea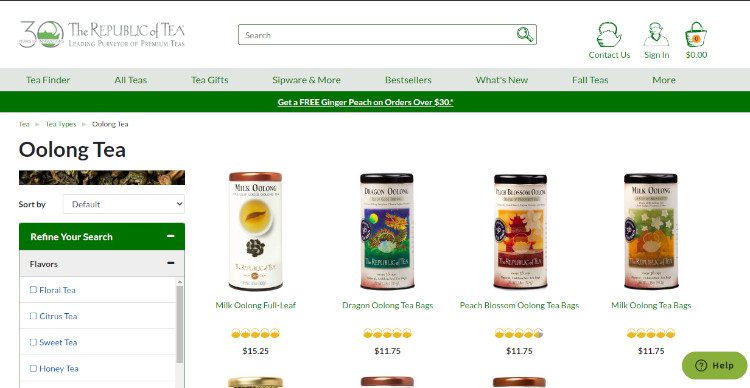 The Republic of Tea provides a range of varieties like Dragon Oolong, Peach Blossom, and Milk Oolong tea for the customer to choose from. In China, the name Oolong translates to the black dragon, inspired by the large, twisted leaves from which this tea originates. The Republic of Tea proclaims to bring to you original Oolong Tea from China's Fujian Province.
The brand calls its products "affordable luxury," with most products costing less than thirty cents per cup to its customer. The product is also gluten-free and kosher, with certifications from more than ten organizations with regard to its quality. Committed to sustainability, the brand also uses round tea bags without staples, strings, or tags that save 5475 miles of strings, 159 million paper tags, and 2 tons of staples per year.
3. Prince of Peace Tea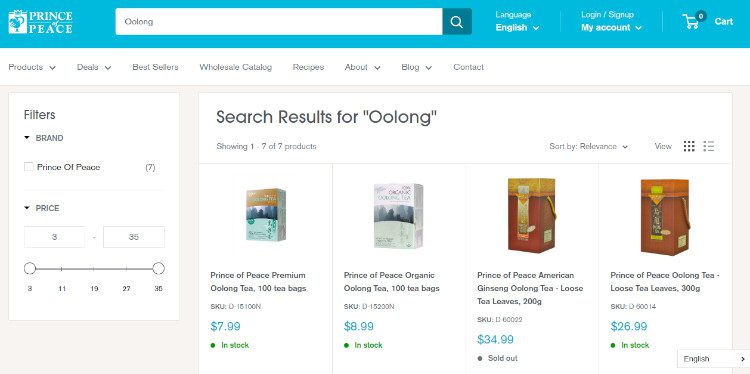 Prince of Peace Premium Oolong Tea promises to bring to the customer the most refined quality semi-fermented tea that combines green and black tea benefits. Harvested in the Wuyi district of Fujian, China, this aromatic flavored Oolong tea is hand-picked. It also provides a fresh flavor and a distinct golden color.
Founded in 1985, the Prince of Peace brand offers its customers a promise of bringing to its customers the best quality tea to improve their lifestyle and health. This traditional Chinese tea is partially oxidized, which provides a unique flavor. It can also be sweetened with Prince of Peace Honey Crystals. Also known as Wu Long tea, this tea from Prince of Peace has 20-30 mg of caffeine, providing its drinker with an energized feeling.
4. Stash Tea
Based in Portland, the Stash Tea Company believes in the motto of "Open. Sip. Smile. Repeat." The vision of the company also states that it believes that tea should do more than just satisfy its consumer. It should also take them on a flavorful journey. This way, the company offers the product White Peach Oolong Tea. Made with a combination of Wuyi Oolong Tea and white, fresh, juicy peach, this tea is a must-have for those who indulge in flavorful teas.
This refreshing drink is made by collecting fresh, handpicked Oolong from the wild and steep cliffs of China's Wuyi mountains paired with the fresh flavors of White peach. Orange peels and lemongrass are also added to the mix to increase its flavors. Stash Tea Company products are made with quality ingredients and are gluten-free and kosher certified. The Stash Tea company also provides Oolong Tea in other flavors, such as the Chocolate Mint Oolong Tea. It has in its ingredients Wuyi Oolong Tea, Cocoa Powder, and Carob Powder. By combining the goodness of Oolong tea in exciting new flavors, this brand provides an excellent choice for those bored with regular tea and looking for some added glam in their teacups.
5. Cushla Tea Company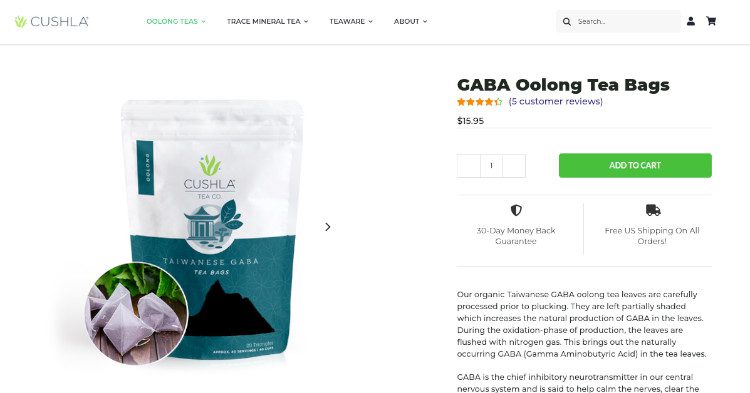 The Cushla Tea Company brings to the customer 100% decaffeinated Oolong Tea. The teas of this brand are prepared with the purest ingredients from start to end. Organic leaves, herbs, botanicals, and all-natural flavors manufacture various ranges of products. With Oolong Tea sourced from Taiwan, the brand describes the flavor profile of Oolong Tea as – smoky, woodsy, and nutty notes with a delicate toasty finish.
The decaffeinated mountain Oolong Tea offered by this brand is a semi-fermented tea that has all the goodness of green tea but does not contain its grassy taste or the tannins in black tea. The tea is decaffeinated by exposing the moistened tea leaves to pressurized carbon dioxide, which acts as a solvent to remove the caffeine. The tea retains its flavor and useful antioxidants because nothing else is affected. While most other brands promise to provide the best quality Oolong Tea, very few can boast of bringing to their customers a kind of Oolong tea that is organic and decaffeinated. This is why this brand might be a good choice for those looking to avoid the harmful effects of caffeine.
6. Davidson's Organics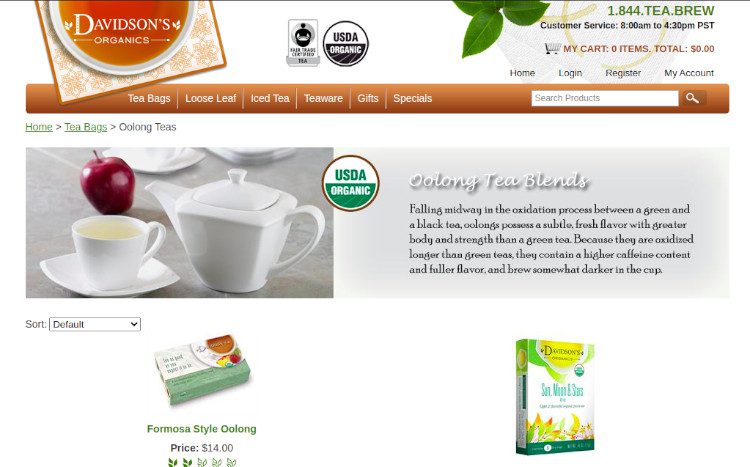 Another popular brand with the promise of providing quality Oolong Tea is Davidson's Organics. Davidson's Organics, a company that claims to have been organic since 1976, states that the brand is ethical and sustainable. The business also has the reputation of sourcing from small farmers to boost the economy. The Oolong Tea sold by them is pesticide free and contains no artificial colors, flavors, or preservatives. Available in sixteen-ounce bags, this brand might be considered by those looking to buy quality Oolong loose tea leaves and not tea bags.
7. The Tao of Tea Store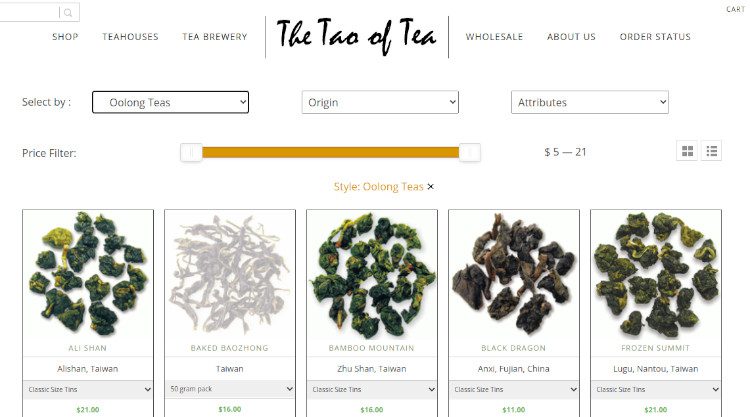 The Tao of Tea Store provides one of the finest quality Oolong Tea. Promising organic, natural, and pure teas, the company claims that they outsource exceptional tasting leaves every season. The brand also pledges to share teas made with artistry and skill and to help educate on tea origin, processing method, flavor vocabulary, and spirit.
The black dragon tea marketed by the brand comes from the famous Oolong producing area of Anxi in Fujian, China. Anxi Oolongs are sometimes referred to as "Se Zhong," meaning a blend of several Oolongs. The processing of this tea is quite similar to that of the popular Tieguanyin Oolong style. The brand combines old wisdom with the sensibilities of the day to produce handcrafted tea that honors the codes of tea-making and remains committed to the raw form of tea spirit.
Frequently Asked Questions
How do I decide where to buy my Oolong tea from?
Ans: There are a variety of brands in the market that promise to bring you the quality Oolong tea of your preference. However, the exact type of Oolong tea that would suit your taste depends on various factors like what kind of flavor you're looking for, oxidation rates, etc. Going through trusted and verified customer reviews can also be a great way to decide which brand you prefer to get your Oolong Tea from.
How do I make Oolong Tea?
Ans: A well-trusted brand would give instructions on how to make Oolong tea, depending on the blend and composition of that particular kind of tea.
Most Oolong Teas can be brewed following a simple procedure. Just heat clean, filtered water and bring it to a rolling boil. Then pour water over tea and steep for three to five minutes (if using tea bags) or five to seven minutes (if using full-leaf)
Can I get my Oolong Tea home delivered?
Ans: Almost all brands today have the provision of delivering their product home, often free of cost. Please go through the desired brand's website to know more about how to get your preferred Oolong Tea product home delivered. These brands also often provide exciting offers and discounts that you absolutely should not miss.
Bottom Line
Oolong Tea is infused with several vitamins, minerals, and antioxidants. Studies indicate that it stimulates the burning of fat. Being rich in an amino acid called L-theanine, Oolong Tea can show betterment of cognitive effects like improved brain activity, sound sleep, reduced stress and anxiety, and so on. Needless to say, drinking Oolong tea regularly can have numerous other positive health effects on your body, which is precisely why you should give it a try right away!